Tera-Player RMAA and Square-Wave Measurements
One year after its introduction, the Tera-Player has already established its position as the world's best sounding portable music player.
Recently some people were curious why it sounds so good, and if it's sound quality could in any way be assessed by measurements.
Many of you probably already know that I have a reputation of developing my audio gear by ear only. That is also true for the Tera-Player, it was tuned to sound great on the Koss Porta-Pro and no measurements were made during the entire development period, apart from the occasional look at my oscilloscope.
Therefore I was also very curious how actual measurements of the Tera-Player would look like.
I learned that there is a software called RMAA which is used by enthusiasts to measure their audio gear. So for the following measurements I have also used RMAA.
Just for fun (and to see if my measurements make any sense at all) I have included - as a comparison - 2 digital audio players that are in my posession: a Sansa-Clip+ and an ipod touch 4G.
The Setup
Below you see a pic of bench #1. Here's my audio computer with the ESI-Juli@ card, which is doing the RMAA measurements. In front you see a small Behringer mixer which is used to calibrate the gain of the different players to a similar level (I am using a channel with no tone control). All RMAA measurements are run through this mixer channel, so all performance graphs include the noise and distortion of the mixer, except noted otherwise.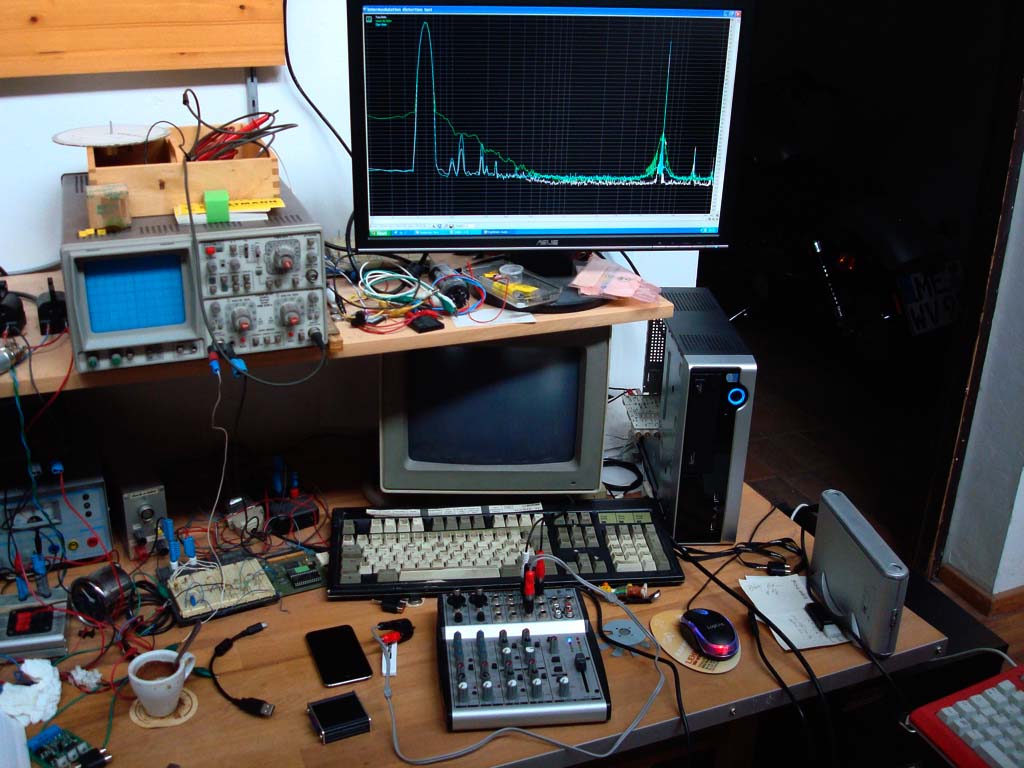 Here's a pic of the ESI Juli@ card, that I normally use only for digital output to my Attraction DAC, but it comes handy now to install the analog portion of the card.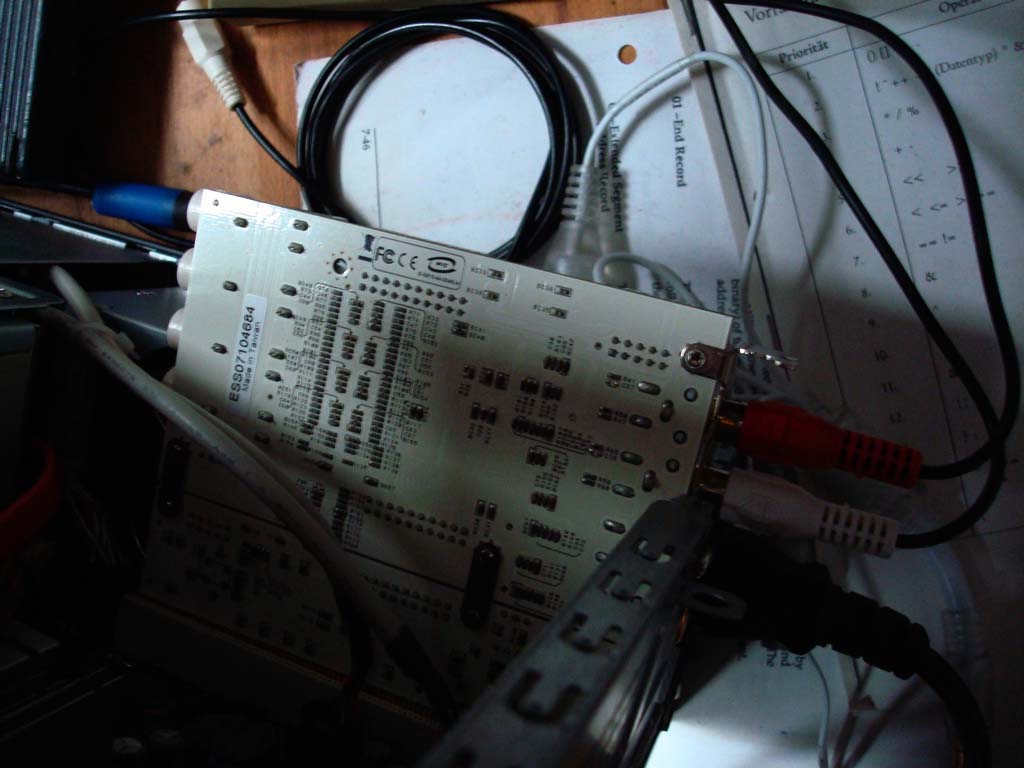 Let's start the fun and note that you can enlarge all of the RMAA graphs by clicking on them.
Frequency Response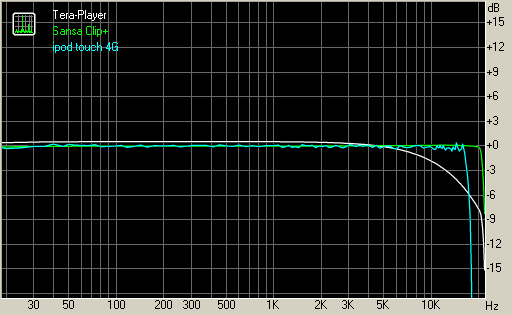 Here we see, that the Sansa Clip+ has a ruler-flat frequency response, while the Tera-Player rolls off the treble frequencies. The ipod touch 4G seems to have a bit rickety response: its not a smooth line and it also stops at an earlier frequency.
So let's zoom in a little bit ->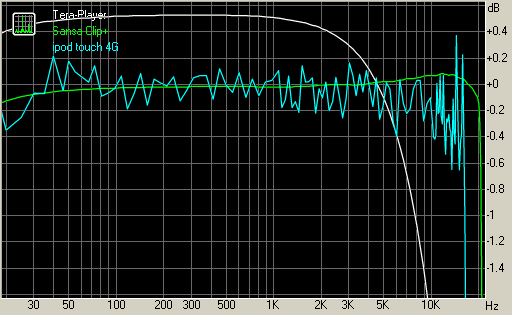 It becomes obvious that something looks really not so good on my ipod touch 4G. I don't know if my unit is defective, all 3 players have the same RMAA wav file on them.
The frequency curve of the Tera-Player is the smoothest of all, but the curve of the Sansa-Clip+ is the flattest, so the winner is .... Sansa Clip+, right ???
Well, if it were so easy. Audio engineers seem to be in love with the frequency domain, and tend to overlook the time domain. You will soon see what I mean so let's have a quick walk to bench #2, this is btw. the exact place where the Tera-Player was created.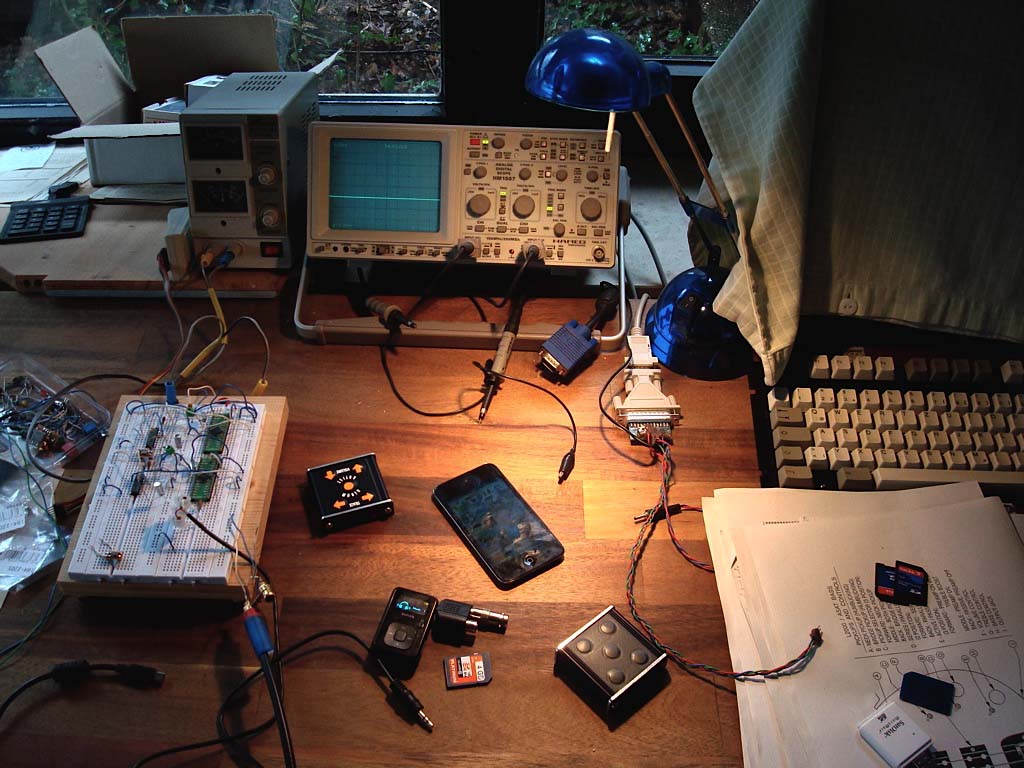 Step Response, Square Wave, Time Domain
Okay, what happens if we play a 1 kHz squarewave and look at the players output in the time domain. I have made 2 test files, one at -6dB, the other at 0dB.
Lets start with the Sansa Clip+ playing the -6dB square: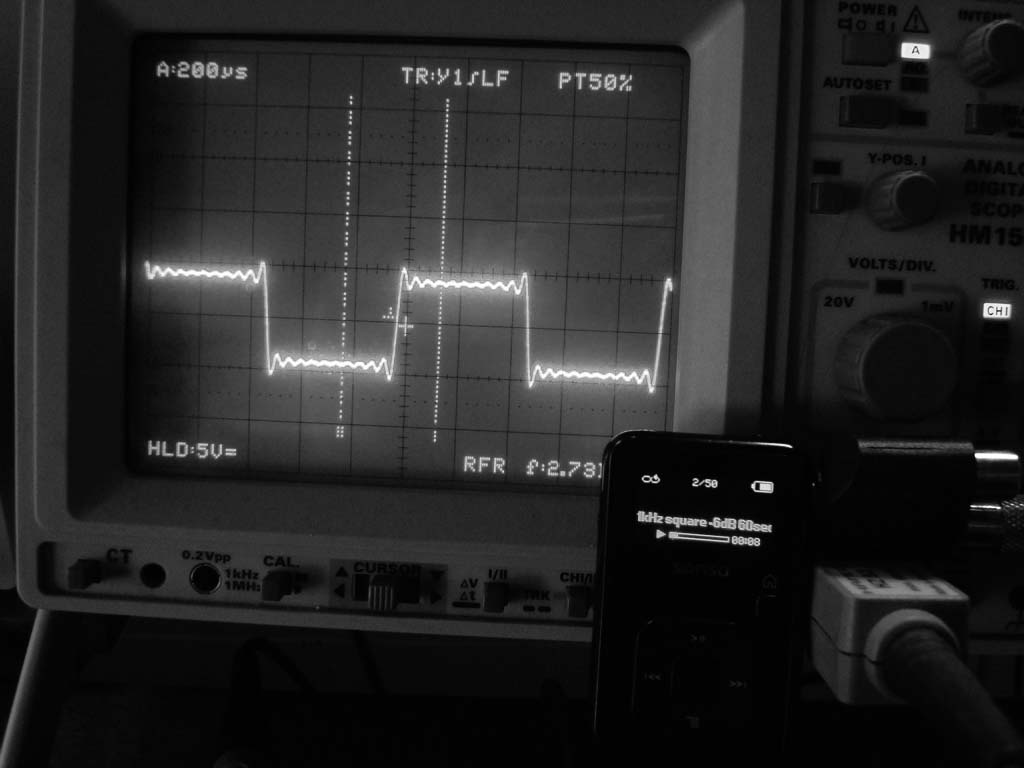 There is a huge amount of ripple on the square wave (about 40% of the signal itself) which is generated by the Sansa's internal oversampling filter. Note that the ripple is not only after each square-step but also before, that means ripple starts ahead in time.
Here's the same file on the ipod touch 4G: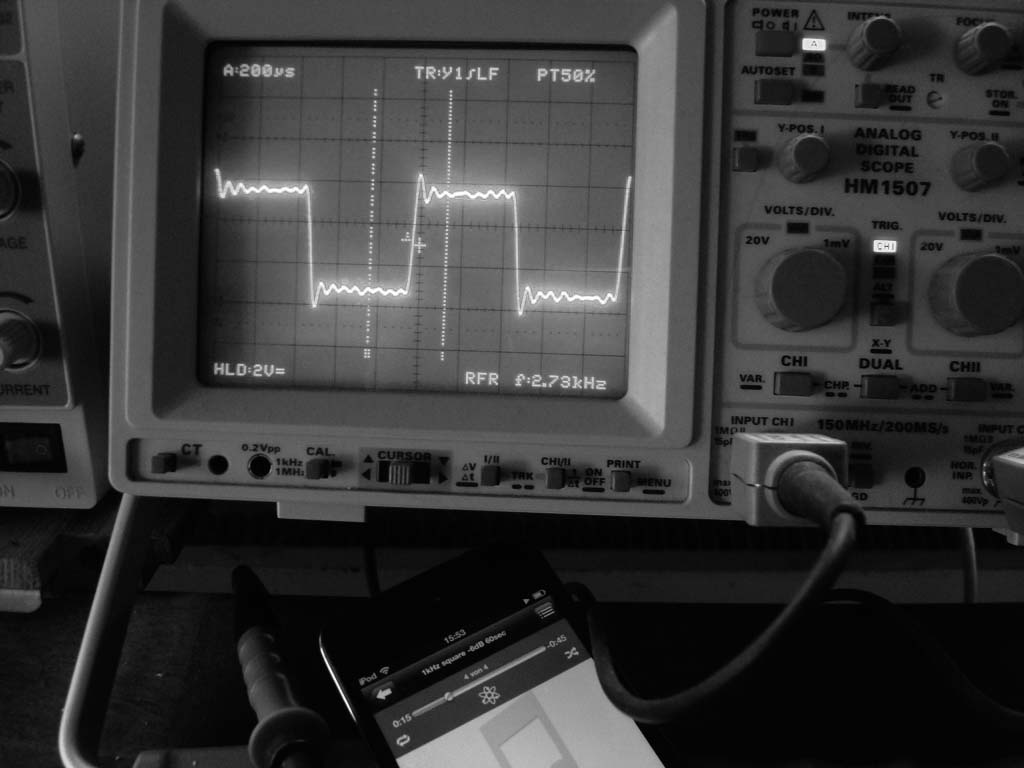 A similar amount of ripple (around 40% of the net signal) compared to the Clip+ but it seems to be more after each step, and not before the step.
Now let's look at the Tera-Player's -6dB square wave: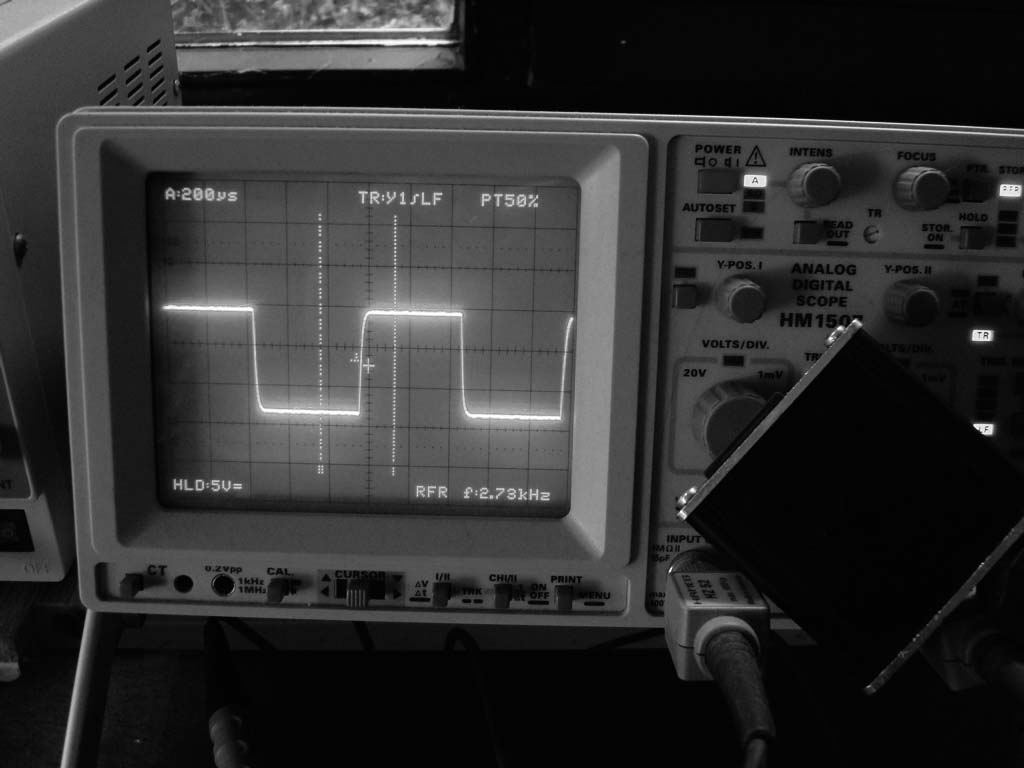 Its clean !
Notice the faster rise-time of the Tera-Player.
Now we play a full scale 0dB square wave.
First the Sansa Clip+ ->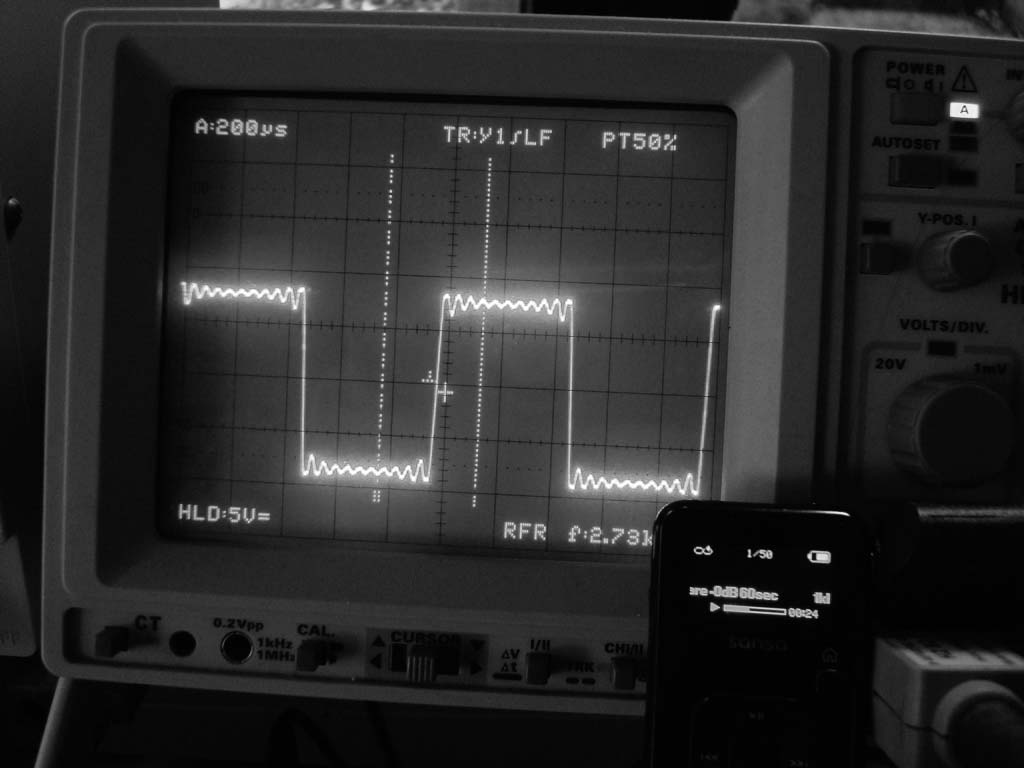 This looks alot like the -6dB response, however the highest and lowest ripple waves seem to be clipped a little bit, but its the Clip after all.
Here's my ipod touch 4G playing the 1kHz, 0dB square wave wav file: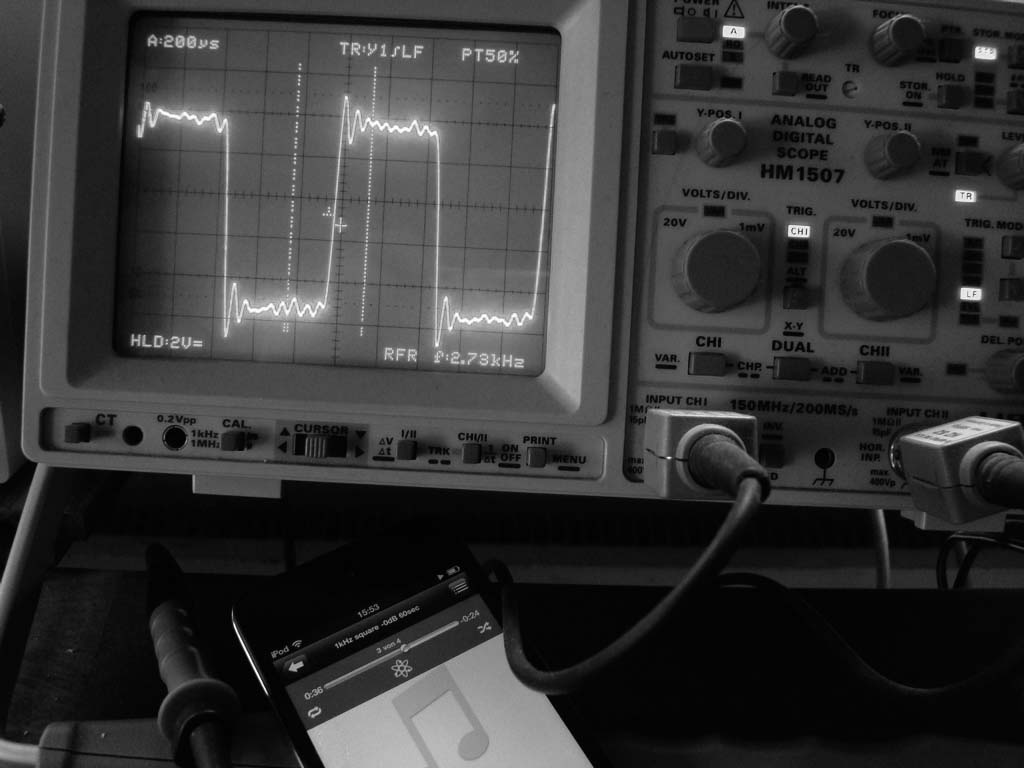 Hm, its a mess ... I don't know.
Here's the Tera-Player doing the 0dB square: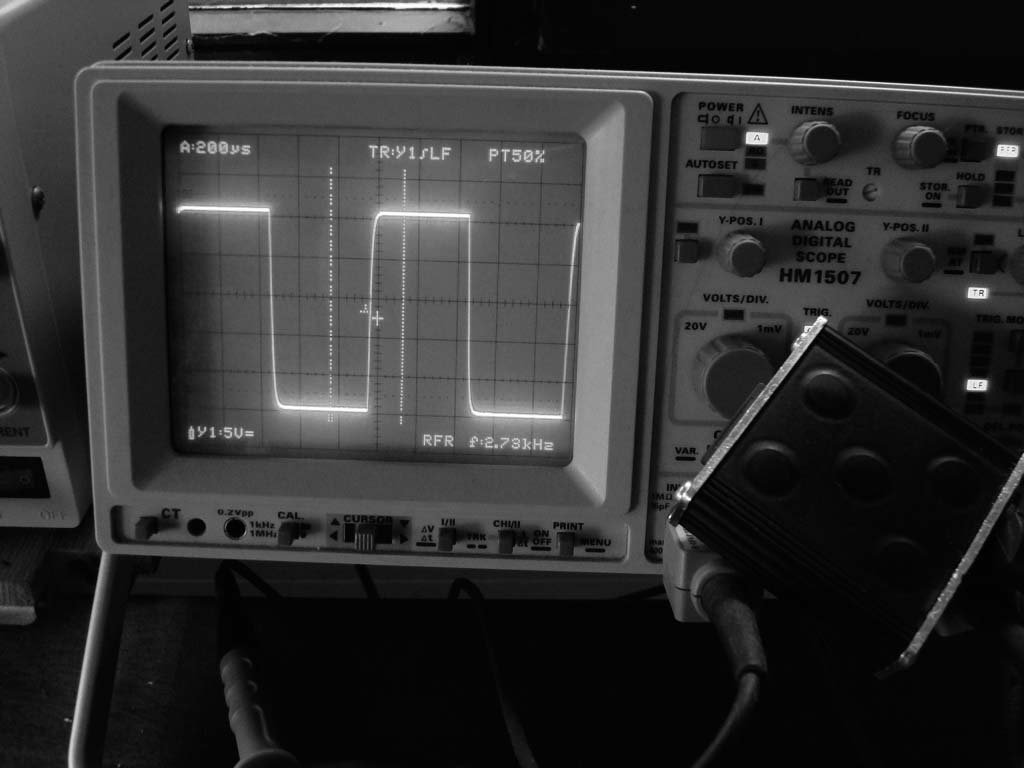 It's clean, fast and much louder too.
This is the very basic difference between the Tera-Player and every other digital audio player.
The Tera-Player does not use oversampling, it is able to give good results in the time domain, but at the same time it will roll off the treble in the frequency domain, because frequencies approaching half of the sample-rate contain less and less energy. This is basically a function of undersampling.
It should however be noted, that while listening to the Tera-Player you will not find it lacking treble in any way, but you will acknowledge the absence of distortion.
The ripple you see on the squarewave playback of the Sansa-Clip+ and the ipod touch 4G is the very ripple that generates a flat frequency response.
This basically means that whenever you are choosing a digital audio product with a ruler-flat frequency-response and a hard band-limit, you are actually choosing distortion in the time-domain. Or the other way round: if you choose good square-wave performance, you will inevitably get a slightly rolled-off frequency response.
It is a relationship that I have shown many years ago on the mother-of-tone.com website:
http://www.mother-of-tone.com/timeband.htm
http://www.mother-of-tone.com/cd.htm
Claude Shannon (inventor of the ultimate machine and many other things) found out, that a signal can be either time-limited or band-limited.
An oversampling DAC interprets music as band-limited and not time-limited. The ideal oversampling filter will ring eternally. It will start ringing even before it is made and it will continue ringing after the music has long stopped.
The Tera-Player interprets music as time-limited, and not band-limited. It therefore does not ring, but theoretically creates aliasses up to infinite frequencies.
Back to RMAA.
Noise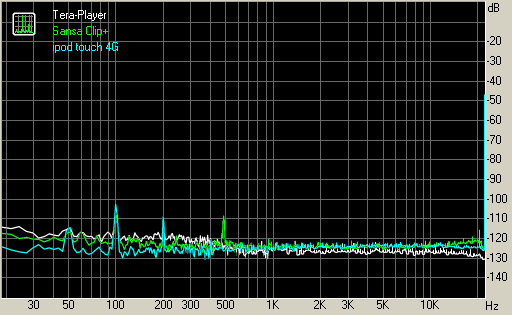 Tera-Player seems to have lower noise level from 500 Hz upward. I have yet to find out if the low-frequency noise level comes from the Behringer mixer.
Dynamic-Range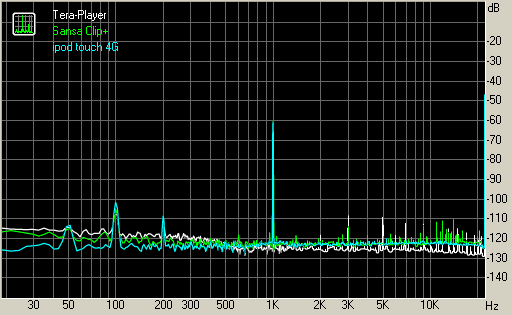 Looks good on all 3 players. Sansa-Clip+ and ipod touch are supposed to use a 24-bit DAC while Tera-Player uses a 16-bit R2R DAC (linear multi-bit).
How can a 16-bit DAC perform so well when compared to 24-bit DACs ?
Total-Harmonic-Distortion (THD)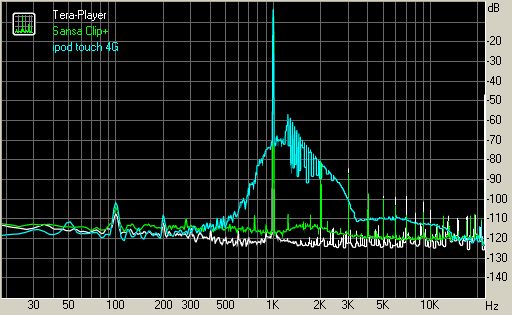 Sansa Clip+ very good on THD graph. Something is seriously wrong with my ipod touch 4G. At least I get an idea why I do not like it's sound. Tera-Player with significantly lower distortion compared to both, probably due to its ultra-low jitter design ?
Intermodulation-Distortion (IMD Test)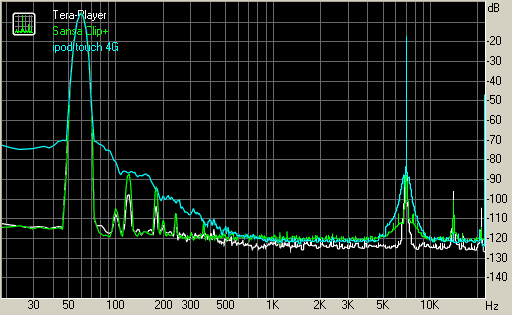 Poor ipod. Very good performance of the Sansa-Clip+, only surpassed by superior performance of the Tera-Player.
IMD swept frequency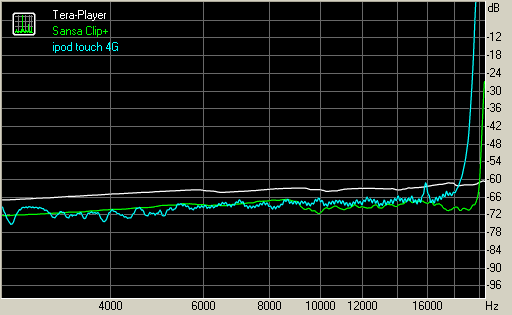 I don't exactly know what this RMAA test means. Tera-Player has smoothest line, but a bit higher than both Sansa-Clip+ and ipod touch 4G. At treble frequencies the lines of the ipod and Clip+ seem to skyrocket up and away, while the Tera's line remains down.
Crosstalk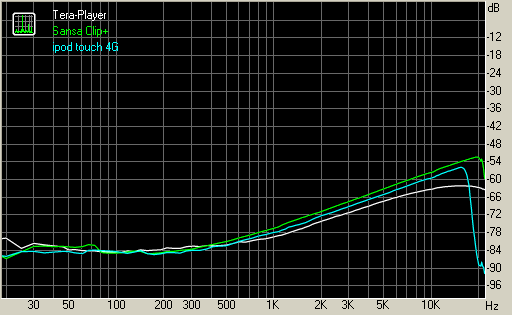 Ooops, now I am more measuring the crosstalk of the Behringer mixer. Let's just say that all 3 look similar and do another crosstalk measurement without the mixer:
Crosstalk Tera-Player direct into ESI Juli@ card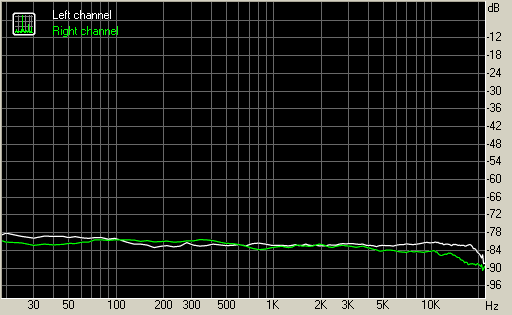 This is the measured crosstalk of the Tera-Player directly into the ESI Juli@ card. The input level is -15dB, because the Tera alone cannot drive the card's input to fullscale. However RMAA was able to recognize its test file and gave the above result.
I tried the same direct connection with my Sansa-Clip+ and ipod touch 4G, but they are not loud enough for RMAA to recognize the test wav file.
Frequency Response at 192kHz Sample-Rate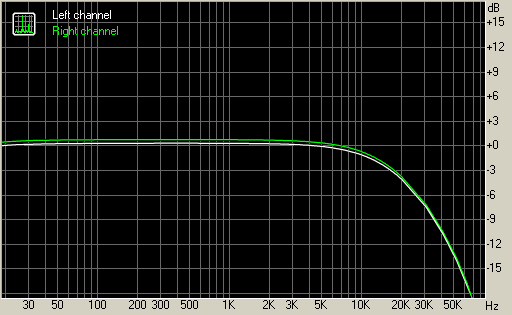 This is the Tera-Player's frequency response when playing 192kHz wav files.
Output Impedance
Tera-Player does not rely on dedicated headphone amplifier, but in order to achieve best performance uses precision Opamp to drive headphones.
Output impedance is 10 Ohm on the SuperDuper output and 20 Ohm on the TeraMega output.
Conclusion
I know that this comparison is unfair, as the ipod and Clip are not meant to be high-quality playback devices, and they cost much less than the Tera-Player and the ipod touch is more a communication device than a music player. However they were the only players I had to compare. If one day somebody comes with a DX100, AK100, HM901, etc.. perhaps I will be able to complete the comparison.
Here we go:
Ipod (I own ipod shuffle and touch 4G) always gave me a good headache after listening a couple of minutes. The ipod touch 4G is a brilliant device: you can surf the internet, and I like the weather widget, but listening to music on the ipod is pain for me. Being a Mac freak for over 20 years this makes me a little sad, but on the other hand it made me want to have something much, much better, so in the end it made me create the Tera-Player.
Sansa-Clip+: With the Clip you still cannot speak of sound quality, however a big part of the pain (huge distortion) of the ipod is gone, and that alone is a great relief !!! For someone who doesn't care much, but occasionally wants to hear some music without pain on a $30,- budget the Sansa-Clip is all go.
You will also find RMAA measurements of the Sansa-Clip and other devices on the nwavguyy and markuskraus websites. I would like to note that the measurements I have made of the Sansa-Clip attest it better performance, compared to the measurements on the mentioned websites.
Tera-Player: The sound-quality of the Tera-Player is countless universes above that of the Sansa-Clip, and galaxies above any other DAP. It is made for individuals who really care about music and want to have the impossible: a high-end system in their pocket.
Listen and enjoy.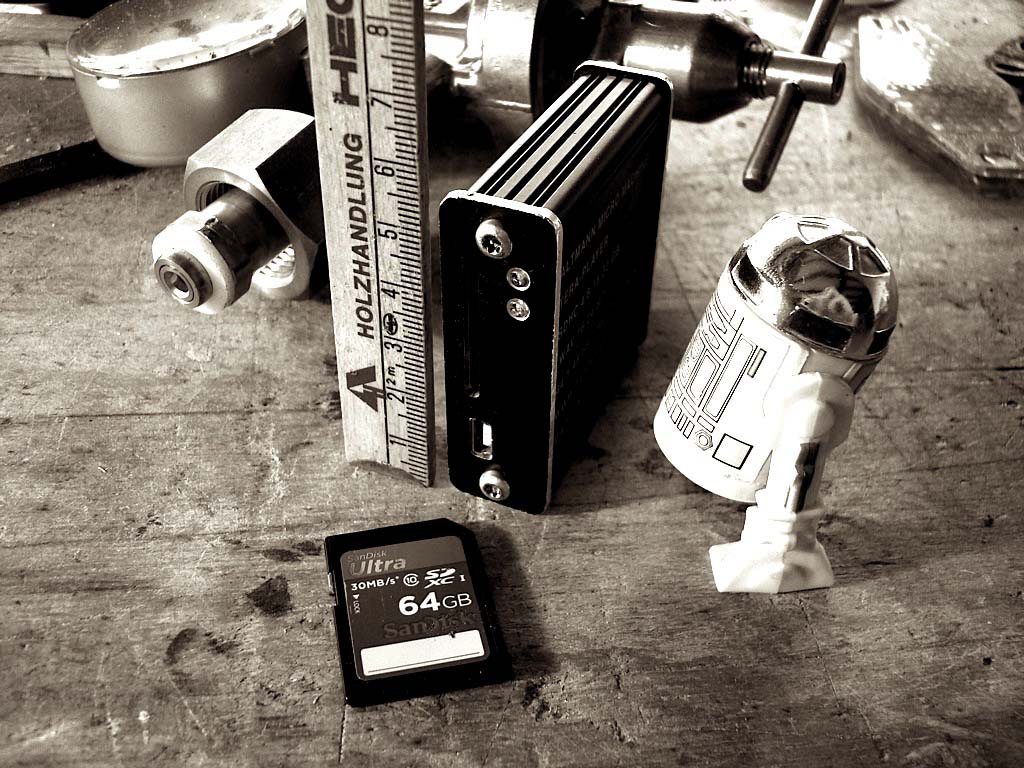 ALTMANN MICRO MACHINES - Dipl.-Ing. Charles Altmann - Erlenstr. 15 - 42697 Solingen - Germany - +49-212-233-7039 - email
iTunes® is a software from Apple, which is in no way affiliated with AMM.
more AMM websites: mother-of-tone.com, jitte.de, amm.haan.de